Fresh appeal foster carers as regional service is celebrated in Portadown
21st February 2020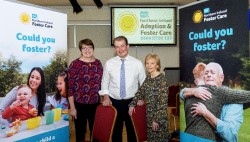 A fresh appeal for foster carers in Northern Ireland has been made this week, as a major new region-wide fostering recruitment drive was celebrated at Seagoe Parish on Wednesday (19th February 2020).
With over 3,300 children and young people currently requiring foster care here, HSC Northern Ireland Adoption and Foster Care provides prospective and current foster carers with tailored support, advice and information.The drive of a new public awareness campaign will be the recruitment of more foster carers, with the launch of a new website, www.adoptionandfostercare.hscni.net, marketing and advocacy messaging from current foster carers and a newly structured Northern Ireland wide regional service.
Isobel Bingham, with over five years' experience working with HSC Northern Ireland Adoption and Foster Care, describes what fostering has meant for her: "Fostering has been the most rewarding experience for our family. Our two birth children have completely thrived, and it has helped them to realise that not all children and young people come from a loving home. My daughter said to me, "If we can't love these children, then who will?", so we decided to take the next step."
Mrs Bingham encourages everyone to consider becoming a foster carer. She continued: "Anyone thinking about becoming a foster carer; go and do the preparation course, push the door and investigate if it is right for you. You won't regret it and you won't have committed to anything. Fostering can be an emotional rollercoaster, but the support from your social worker is fabulous. Foster carers need to have an open heart and a good support network."
Una Carragher, Principal Social Worker, HSC Northern Ireland Adoption and Foster Care explained: "Foster carers are ordinary people who are willing to open up their hearts and homes to provide care to other people's children.  They will offer a safe and secure home where children feel valued, respected and cared for.  For some children and young people this will be for only a short period of time, whilst others require a home for a longer period.
"The need is huge here in Northern Ireland and we appreciate it's not a decision which can be taken lightly.  Fostering is a commitment which requires careful consideration and we know from experience that it throws up many questions and potential barriers.  With our new campaign we're taking a transformative approach to break down these barriers, to answer questions and provide information, training and support even before any commitment is made.
"The key message is that if anyone is even thinking about fostering, we would love to hear from them.  We're aiming to make that as easy as possible with a single hotline (0800 0720 137) and our new user-friendly website.  Our team are here to answer any questions, to allay concerns and to provide support for these really important carers."
Colm McCafferty, Assistant Director, Corporate Parenting, Southern Health and Social Care Trust said: "We need a fresh approach to the recruitment of Foster Carers, we need to do things differently. We need a consistent and standardised service across Northern Ireland,  which is why, for the first time in Northern Ireland, we will have one regional Health and Social Care brand for foster care and one single point of contact for enquiries, information and referral."
HSC Northern Ireland Adoption and Foster Care welcome enquires regardless of race, religion, language, culture, gender, disability, age or sexual orientation and they provide 24-hour support to all foster carers on an ongoing basis.