Good Beginnings
29th November 2019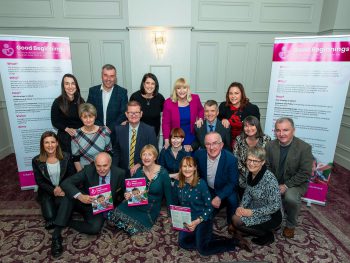 A new five year Infant Mental Health Strategy has been launched in the Southern area.
The strategy represents a commitment by statutory, voluntary and community organisations to promote positive infant mental health from the ante natal period through to children aged three years of age.At a stakeholder engagement event in May 2019, representatives from the statutory, voluntary and community sectors shared their thoughts and ideas to help the working group to develop the strategy which follows three key themes – 'Evidence and Policy', 'Workforce Development' and 'Service Development'.
150 people representing these organisations attended the launch event.
Speaking at 'Good Beginnings' Strategy launch, Shane Devlin, Chief Executive of the Southern Health and Social Care Trust said: "Evidence clearly shows just how critical the first three years of a child's life are in terms of their development. Early childhood experiences and relationships between the child and their parents have such a major impact on positive emotional and mental health throughout life.
"While being a parent is very rewarding it can also be demanding and some families can face additional challenges like premature births, domestic violence, mental health difficulties or drug and alcohol misuse.
"We want to ensure that all children have the best start in life by promoting positive, social and emotional wellbeing. That is why it is so important that services work together with families to prevent difficulties and provide support at the earliest possible stage when needed.
Dawn Cannon, Director of Training and Education for the UK Association for Infant Mental Health and keynote speaker at the launch, emphasised the importance of prioritising infant mental health and how research and training maximises the opportunity for positive healthy development and mental health throughout life.
A cross sectoral Southern Area Infant Mental Health Strategic Group will now be established to ensure that the strategy is implemented across the locality.
Find the full strategy and summary along with translated versions HERE.