Mental Health and Suicide Prevention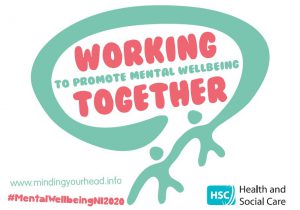 Working together to promote mental wellbeing
The Southern Trust is delighted to be involved in the regional launch of the mental and emotional wellbeing campaign 'Working Together to Promote Mental Wellbeing' beginning on 7 September 2020. Over the next 5 weeks, the campaign will focus on the Take 5 Steps to Wellbeing and share information and resources to support you to look after both your own mental and emotional wellbeing and that of others.
Useful guide to Mental and Emotional Wellbeing Resources
Useful videos to watch
Professor Siobhan O'Neill -introduces the campaign
Connect
What to expect when you phone Lifeline
Oisín McConville explains the importance of Being Active
How to Be Active every day
For more information on the campaign and additional support and resources, visit www.mindingyourhead.info
Calendar of Events to promote Mental Wellbeing in the Southern Trust 10 September – 10 October
Everybody has mental health just the same as everybody has physical health.  There are times when things can get on top of us and affect our mental health. It is estimated that one in four people in Northern Ireland will have a mental health problem at some point in their lives.  Within the Promoting Wellbeing Division of the Southern Trust, we coordinate a range of mental health and wellbeing initiatives and resources.
Our Protect Life Coordinator works in partnership across agencies to co-ordinate suicide prevention initiatives and community response to suicide in the southern area.
Contacts:
Deirdre McParland, Senior Mental Health Promotion Officer, deirdre.mcparland@southerntrust.hscni.net Tel: 028 3756 4460
Orla Murtagh, Protect Life Co-ordinator,  orla.murtagh@southerntrust.hscni.net Tel: 028 3756 4461
Recovery
First screened at the Celebration event on the 22 June 2018, the SHSCT Recovery and Wellness College film was directed by Brian Toner (Peer Trainer) in association with On the Boil Productions.
This film focuses on the work of the Recovery and Wellness College and reflects the dedicated work of service users, carers and practitioners who believe in hope, opportunity and control.
World Mental Health Day
World Mental Health Day, observed on 10 October every year, is an opportunity to raise awareness of mental health issues and to mobilize efforts in support of mental health.
This year, the theme is suicide prevention.
You can request Take 5 literature for your event by emailing PWB.Resources@southerntrust.hscni.net