Information sessions for people with MS
7th September 2023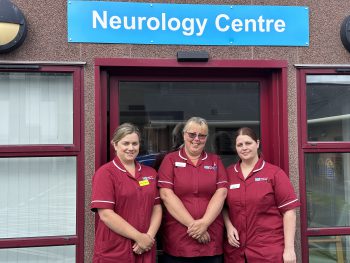 Patients with MS are invited to attend an event hosted by the Southern Health and Social Care Trust MS Nursing Service, on Bladder and Bowel Health.
The team have recently relaunched their information sessions on symptom management and MS and their next planned event will provide vital information, support and health promotion advice on the above topic.
The session will take place in Edenderry Hall in Seagoe Parish Centre on Monday 25th September between 1.30pm and 3pm.
Southern Trust MS Specialist Nurses Heidi Thompson, Gemma Jones and Melanie Nesbitt said:
"Bladder and bowel problems occur commonly in people with MS but we recognise for some, that these symptoms can be distressing and difficult to talk about. At our information session, we will discuss how bowel symptoms, such as constipation and incontinence, can be managed, why they happen in MS and the health professionals that can support you.
"We will have presentations from Ms Erin Cooper, a pelvic health physiotherapist & Ms Ashlinn Little, a continence advisor. This will be in a relaxed and informal setting with a break and refreshments so feel free to bring any questions you may have. Anyone attending is welcome to bring a friend or family member."
The Trust has a limited numbers of spaces available so to confirm whether you wish to attend or not, please phone 028 3756 0075 before 18th September 2023. Alternatively use our automated text service by texting yes or no along with your full name & date of birth to 07754447273. This will allow us to offer a space to someone else.