Inspiring partnerships and building relationships
13th February 2020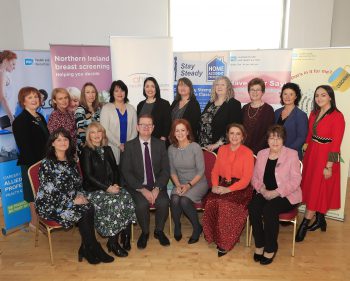 The Southern Health and Social Care Trust has hosted a special celebration event showcasing stories directly from patient and clients who have experienced a range of Allied Health Professionals (AHPs) services.
"The Voices that Matter Event", brought together AHPs from across all disciplines along with other health and social care staff to hear the inspiring stories from our service users/carers who have taken a genuine partnership approach with AHPs in their assessment and treatment journeys.
AHPs is the name given to the group of professional health care staff distinct from nurses and doctors, who offer a range of diagnostic, technical, therapeutic and direct patient care and support services critical to patient care. AHPs include physiotherapists, radiographers, speech and language therapists, podiatrists, radiographers, occupational therapists and dietitians. Orthoptists, prosthetists, art, drama and music therapists are also AHPs and are contracted in to the Trust for service provision. The paramedic workforce came under the AHP professional grouping in 2017.
The inspirational stories from our service users/carers across all age groups included the topics of irritable bowel, musculoskeletal, dementia, radiotherapy, falls, wheelchair services, and mental health and Dysphagia and all have showcased positive patient outcomes and learning for the future following interventions from the range of AHPs.
Guest speakers also included successful recording artist Malachi Cush, country music legend Philomena Begley, who have both availed of the AHP services within the Southern Trust and esteemed athlete and physiotherapist Ciara Mageean.
Southern Trust Assistant Director of Allied Health Professions, Governance, Workforce Development and Training, Carmel Harney said: "In the Southern Trust, our Allied Health Professionals play such a vital role in ensuring safe, high quality care. From diagnosis and assessment to delivering treatment right through to rehabilitation, they have a huge influence on the patient journey and are transforming services with many "first of their kind" innovative service developments.
"AHPs are pivotal to meeting the challenges facing the health and social care system and through their partnership cross-sectoral working they integrate care to improve our health and social care needs now and into the future.
"I am extremely proud to have the calibre of our own AHPs recognised at such a prestigious event.
"We particularly would like to thank all our service users, their carers' and advocates, who have been so willing to openly share their experiences on what works well and how we can improve in shaping future services and build  greater capacity across the system that will meet the growing demands of our population."
Heather Trouton, Executive Director for Nursing, Midwifery and AHPs said: ""AHPs are by nature creative, professional, collaborative, problem solving, adaptable, patient centred and above all compassionate. These qualities were demonstrated in spades at the event.
"They are the perfect example of patient and professional working in harmony to achieve the very best outcomes for those who use our services."
"I left this event inspired and joyful, seeing the talent, the commitment and the partnership working that is so prevalent in this Trust."