It's in your hands!
2nd May 2023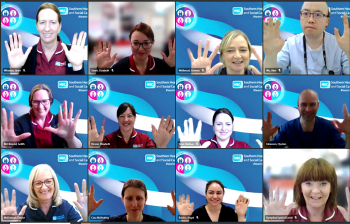 The Southern Health and Social Care Trust is encouraging staff, patients, clients and visitors to continue to think about the importance of clean hands.
As part of the World Health Organisation's World Hand Hygiene Day (5th May), the Trust are raising awareness of the importance of effective hand washing all year round.
Infection Prevention and Control staff will spend the week leading up to 5th May manning stands across the Trust, providing visitors and staff with literature and an opportunity to speak with them.
They will also have the 'glow germ boxes' available so that staff can see if their hand-washing technique is effective.
Gemma Wellwood, Lead Nurse for Infection Prevention and Control said:
"World Hand Hygiene Day happens once a year but we need to remember to habitually clean our hands and champion good hand hygiene practices every day.
"COVID-19 was and is a stark reminder that the most effective way to stop the spread of viruses and to save lives is good hand hygiene. Prevention of infection is much better than cure.
"Hand hygiene is the most simple and effective action to reduce the spread of pathogens and prevent infection.
"We would remind everyone whether you are staff, a patient, client, carer or visitor to please play your small but important part in tackling infection by washing your hands and making use of the hand rub that is widely available throughout our facilities."