Launch of Infant Mental Health Awareness Week
7th June 2022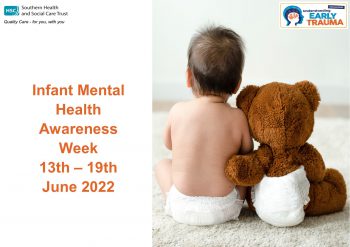 This Infant Mental Health Awareness Week (13-19th June), the Southern Trust is reminding everyone who works with children and young people to consider the importance of babies' social and emotional development.
Organised through the Parent-Infant Foundation, Infant Mental Health Awareness Week runs every June. This year's theme is 'Understanding Early Trauma'.
Ciaran Eastwood, Head of Service for Family Support and Safeguarding in the Southern Trust and chair of the Southern Area Infant Mental Health Strategic Group explains:
"Infant mental health describes the social and emotional wellbeing and development of children in the earliest years of life. This includes their ability to form close relationships, recognise and express emotions and explore and learn about their environment.
"Evidence clearly shows just how critical the first three years of a child's life are in terms of their development. The experiences and relationships we have in the earliest years of our lives then impact on our future emotional, physical, social and mental health.
He added:
"We want to ensure that all children have the best start in life by promoting positive, social and emotional wellbeing. That is why it is so important that services work together with families to prevent difficulties and provide support at the earliest possible stage when needed.
"In the Southern Trust, we have a range of services, doing their best to support families. Our goal this Infant Mental Health Awareness week is to encourage everyone to think and talk about infant, children and young people's mental health and to consider how babies' mental health needs can be met."
For more information and support: IMHAW – Parent-Infant Foundation
To view the Southern Area Infant Mental Health Strategy please click here
Visit https://southerntrust.hscni.net/services/children-and-young-people/infant-mental-health-awareness-week/ for further information.