Leading the way in cardiology
21st March 2023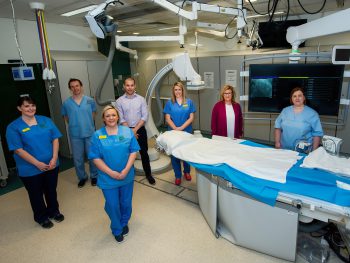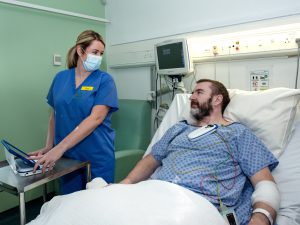 The Southern Trust cardiology team has been recognised for a number of ground breaking developments.
The Trust offers a wide range of acute inpatient and outpatient cardiology services and investigations across both Daisy Hill and Craigavon Area hospitals. The state of the art Cardiac Catheterisation Laboratory at Craigavon Hospital, with its own unique research facility, has been ranked amongst the best in the UK.
The Heart Failure team have worked tirelessly to expand and develop the range of expert services they offer patients. In addition to Consultant Led Heart Failure clinics led by internationally trained Heart Failure Consultant Cardiologists, the team have transformed their specialist nurse led clinics, streamlining investigations and greatly reducing waiting times for patients. The launch of a Rapid Access Heart Failure clinic was the first of its kind in Northern Ireland, offering a one-stop-shop of diagnostic investigations, consultant expert opinion, specialist nurse advice with planned and timely follow up as needed.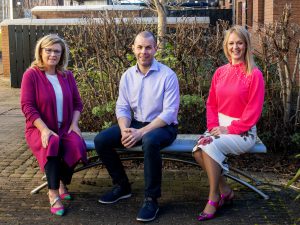 Dr Patricia Campbell has been appointed Clinical Lead for Heart Failure Service for Northern Ireland – the first heart failure leadership role for the region. Consultant Cardiologist, Dr Campbell is the local Heart Failure lead and previously was Assistant Professor in Dublin and Canada. She is widely published and involved in clinical heart failure trials. Dr Campbell is the secretary of the Irish Cardiac Society and a member of the Board of the British Society of Heart Failure. She is on the scientific committee of CardioRenal Forum UK and is proud to sit on the clinical advisory panel of the Pumping Marvellous charity – run by and for people living with Heart Failure.  In this new regional role, Dr Campbell will examine heart failure services across Northern Ireland, to determine if all patients have equitable access to specialist services. She will also be instrumental in creating initiatives to improve services through innovation and collaboration. The goal is to create a more pro-active approach to heart failure care, ensuring early diagnosis and prompt treatment to reduce hospitalisation, impact on mortality and improve their overall quality of life for patients.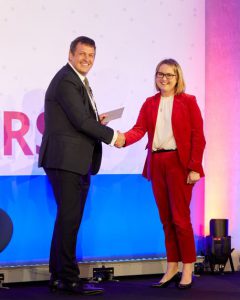 Cardiology trainee, Dr Alicja Jasinska-Piadlo, has received the Early Investigator Award 2022 from the British Society for Heart Failure for her PhD research, hosted by the Trust, in data analytics of Heart Failure outcomes in Northern Ireland. Supported by Consultant Cardiologists Dr David McEneaney and Dr Patricia Campbell, Dr Jasinska-Piadlo secured a HSC Research and Development grant to undertake the study which examined data to identify the factors which impact on the management of heart failure and mortality. She was shortlisted to share her findings amongst researchers from UK and USA and won the award for her presentation: Patients referred by non-cardiology physicians to heart failure service showed higher mortality in real world heart failure data analysis. Dr Jasinska-Piadlo has previously represented the Irish Cardiac Society as a Heart Failure Specialist of Tomorrow on the European Society of Cardiology Heart Failure Association and is proud to represent the Southern Trust on the Education Committee of the British Society of Heart Failure.
The Southern Trust has Northern Ireland's only clinical physiologist led loop recorder implant service.
Having received UK recognition, their approach frees up consultant time and theatre space for more complex procedures and has reduced waiting times for patients. The team have been training more staff in the technique so they can help more patients. They have also expanded the service to monitor stroke patients and Team Lead, Natalie Archer is the first Cardiac Physiologist in Northern Ireland to train in 'explanting' the device which could previously only be done by a consultant.
Led by Consultant Cardiologist, Dr Alastair Gray, the pacing team has doubled the number of devices they have implanted since before the pandemic. The team offer inpatient and outpatient implantation services for patients with heart conditions like heart failure and bradycardia (slow heart rate), including pacemakers, cardioverter defibrillators and cardiac resynchronisation devices.
They are also very proud to have implanted Northern Ireland's first ever 'left bundle branch' pacemaker last month. For some patients, pacemaker implants can lead to deterioration of heart function due to the artificial stimulation. Dr Gray and Mrs Archer have trained in ROI and Europe to develop this new technique which reduces the risks and are delighted to be able to offer it to their patients.
The heart failure and pacing teams are using remote monitoring through heart failure devices to identify early signs of deterioration to enable early intervention and prevent hospitalisation where possible.
The team continue to work hard to reduce waiting times for patients and led by Dr Artur Mlodzianowski, Consultant Interventional Cardiologist, have been developing new nuclear imaging pathways and protocols in recent months. Cardiology SHO doctors, Dr Zita Okeke and Dr Ryan Carroll are now fully qualified to undertake Myocardial Perfusion Imaging, a  specialised imaging test which shows blood flow through the heart during stress. Their additional training in this area aims to help reduce waiting lists for this procedure.
Commending the entire team, Trust Head of Service for Cardiology Kay Carroll said: "We are very proud of our cardiology service, it has been inspiring to support this highly skilled team who are at the forefront of innovation in helping to improve patient care. Thanks to their expertise, commitment and enthusiasm to get involved in national and international research studies and try the very latest treatments and techniques, our patients have access to some of the newest interventions worldwide. I would like to pay tribute to their dedication to developing their services to continually improve the quality of care and overall patient experience."