'Let's Talk Sex" Encouraging Young People to start having conversations around their sexual health
7th February 2020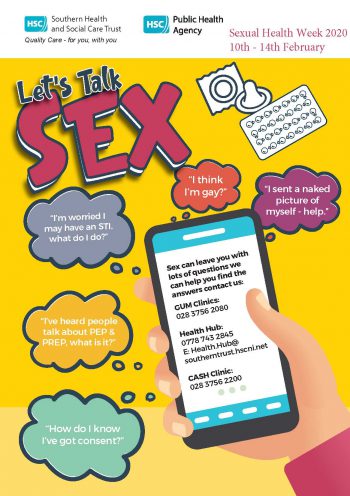 As part of Sexual Health Awareness Week (10th – 14th February),  the Southern Health and Social Care Trust is reminding young people that they can avail of their free specialist sexual health and contraceptive advice service.
The Health Hub is a free and confidential service for young people under the age of 25 which operates on a drop in basis within Southern Regional Colleges and the Dungannon campus of South West College, however it is not an exclusive service for students within the College and is available for all young people between the ages of 16 – 25 to attend.
The Health Hub offers young people the opportunity to avail of checks (such as BMI, diet and nutrition advice), contraception (including free condoms and emergency contraception), chlamydia testing (and treatment if necessary), relationship/family advice, support with smoking cessation and advice around drugs and alcohol and stress and mental health, with further signposting/referral available.
Lorraine Savage, Sexual Health Improvement Lead with the Southern Trust, said: "Having good sexual health is an important part of staying physically and emotionally health. Adolescence is generally a time of learning and exploration. Young people under the age of 25 report relatively larger numbers of sexual partner's than other age groups so they are potentially at a higher risk of adverse sexual health.
"It is vitally important that young people feel that they can come and talk to someone if they have any issues or concerns. The service we provide is confidential, non-judgmental and for people between the ages of 16 – 25 of all genders and orientations. We will not share your information or tell anyone about your visit or use of the service unless we believe that you, or someone else, are at risk of serious harm."
To coincide with this year's theme for Sexual Health Week, 'Let's Talk Sex', there will be a range of events happening throughout next week. The Southern Trust will also be supporting workshops from Transgender NI, information stands will be available in Southern Regional College and at Daisy Hill Hospital and we will also be supporting the delivery of Digital and Online Awareness session for young people in The Magnet Centre, Newry.
For more information on the Health Hub, visit southerntrust.hscni.net or email health.hub@southerntrust.hscni.net
What is the Health Hub?

Health Hub testing