Looked After Children achievement awards
28th April 2022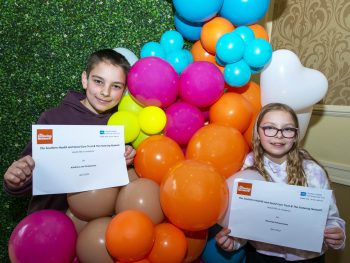 An event has taken place to celebrate the successes of young people who are looked after away from home and was hosted by the Southern Health and Social Care Trust in partnership with The Fostering Network
It was the first awards ceremony in over two years due to the pandemic.
Over 100 young people in foster and residential care were nominated by their social workers and received awards for a wide range of achievements including education, Sports, music and bravery.
Opening the awards ceremony, Mr Colm McCafferty, Southern Trust Interim Director of Children and Young People's Services said, "We know the many challenges that young people in care face -and more so over the past two years, coping with the disruption to their normal routines and dealing with isolation as a consequence of many of their activities shutting down.
"We are delighted to bring back our Achievement Awards which was always one of the most important events in our Trust calendar. As parents and carers, we are proud when our own children do well, and as corporate parents for the young people in our care – we in the Southern Trust are delighted when they excel in particular activities and want to celebrate their successes."
Mr McCafferty also thanked foster carers who play such a significant role in assisting Looked after Children achieve so much as shown through this event and acknowledged the additional pressure there have been over the past few years.
The Southern Trust is inviting those interested in Foster Care to get in touch  to find out more about how to become a foster carer Contact the family Placement Service on 028 3833 7181.or visit adoptionandfostercare.hscni.net