Lymphoedema Awareness Week! (6th-11th March)
10th March 2022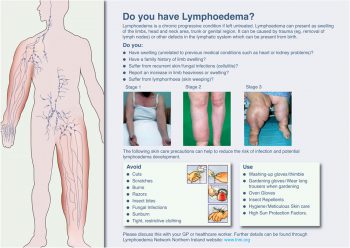 This week is Lymphoedema Awareness Week!
The Healthy Legs Class, available to people across the Southern Health and Social Care Trust area, aims to help improve leg health for patients who experience swelling due to circulatory problems or obesity.
Patients referred by their GP will be clinically assessed before beginning the four week group based education and exercise programme which is the first of its kind in Northern Ireland.
Lynne Whiteside, Physiotherapy Clinical Lead for the Southern Trust explains: "Many people have what often is described as 'a little bit of swelling' (oedema).
"Oedema is often the result of an underlying medical condition, it can cause extreme discomfort, swelling and if not treated properly can lead to infections or painful ulcers which require antibiotic treatments, dressings, district nursing support and sometimes even hospital admission.
"By offering patients the chance to learn more about promoting good leg health through exercise, diet and long term lifestyle changes, we hope that they will be able to self-manage their condition, reducing the risks of secondary problems and overall giving them a better quality of life."
The pilot was completed after the team secured funding for the 'Healthy Legs Classes' by winning a 'Dragon's Den' style competition encouraging staff to develop innovative quality improvement projects.
It was clear to us that not only did the patients benefit from the education and exercise, but also, the peer support brought another dimension. It was empowering for the patients as it put them in control of their condition.
Congratulating the team on the service Brian Beattie, Director of Older People and Primary Care for the Southern Trust said: "Continuous improvement of our services and the quality of care received by our patients and clients is a real priority throughout our organisation. By focusing on early intervention and prevention, our physiotherapy team are equipping this group of patients with the knowledge and skills to avoid complications from their condition. Not only does this lead to a better use of resources across the service, but more importantly it gives a significant number of patients much better outcomes in terms of their physical health but also overall emotional and social wellbeing."
Some comments from patients who have attended the classes include:
"I have more confidence now I know about my condition and how to help the symptoms" and "I was feeling depressed from the leg swelling, it has been a positive thing to come to class."
And: "I have got great results from attending the sessions, I am now able to wear boots that hadn't fitted me in five years and I am walking faster and further than I have in a long time."
Healthy Legs classes take place in a variety of locations throughout the area.
Listen to what Lynda has to say about the programme here.