Keeping connected virtually during the festive period
6th December 2022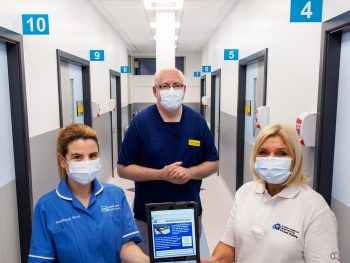 We know that it can be especially hard for those who are in hospital over the Christmas period, which is why our Virtual Visiting Service is helping patients stay connected with family and friends during the festive season.
Whilst visiting restrictions have eased we know for some that in-person visiting may still not be possible and we are encouraging people to take advantage of our virtual visiting options.
The Virtual Visiting Service will continue to run over Christmas Eve, Christmas Day, Boxing Day and New Year's Day. The service not only provides virtual visits and the 'letters to loved one' service to families and friends but also includes the virtual Spiritual Services. The virtual Spiritual Service is important for those who may find that during times of illness that their spiritual needs increase. This service includes a 30 minute slot to set up a pre-recorded spiritual service from a patient's local area, access to the Chaplain's Youtube channel and in some cases patients may avail of live streaming of church services when the service can accommodate this.
Mairead Casey, Virtual Visiting Team Manager, has said that the service has handled almost 20,000 calls between patients and their family and friends since its inception back in July 2020, some of which have been worldwide.
"Virtual visiting has been of immeasurable benefit for patients, families and staff.
"It's important to stay connected with family and friends during this time, so we are really encouraging people to take advantage of technology to stay in touch virtually as a way of keeping in touch with your loved ones and friends who are in hospital.
"Virtual Visiting can also support good mental health and wellbeing and can reduce stress and anxiety for the patients and their loved ones and reduce social isolation, especially if a patient has been admitted in an emergency."
Father Damien Quigley, one of the Trust Chaplains, said that they regularly visit the wards to talk and listen to patients.
"We know this year has been like no other and that it will be especially hard for those who are in hospital over the festive period this year, which is why our chaplaincy team in the Southern Trust are working together to ensure that our patients have an extra special Christmas this year.
"Christmas is one of the loveliest times to visit a church and many will have special services for children and families such as carol services.
"I am delighted that we have Spiritual Services as part of the Virtual Visiting Service here in the Southern Trust so that our patients in hospital can link in and get the strength they may need from their religious beliefs."
Families and friends can book a virtual visit through the Virtual Visiting schedulers between 10am and 2pm by phoning 077 7651 6419 each day. The Virtual Visiting Officers will then go to the patient's bedside and connect the call using Trust iPads.
The Southern Trust Chaplain channel can be accessed by searching 'Southern Trust Chaplains' on Youtube.
---
Virtual Visiting Officer Jillian McCullough, Father Damien Quigley from the Southern Trust Chaplaincy team and Nurse Michelle McManus promoting the options available from our Virtual Visiting Service over the Christmas period.