Med Ed Recognition!
16th May 2022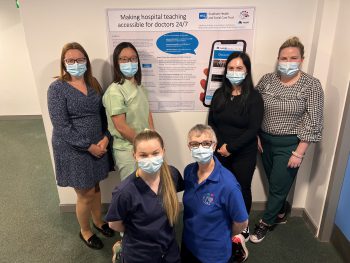 Huge well done to the Southern Health and Social Care Trust's medical education team who have been recognised for their work at two major medical events, led by Post Graduate Education Fellows Dr Aine Rafferty and Miss Julie Lua.
A social media campaign to improve parental understanding of childhood illness won at the International Virtual Medical Conference – Humans in Health Care in April and a project to make hospital teaching accessible for doctors 24/7 received first place at the National Association of Medical Education Management, last week in York.
Over the past year, a number of trainees from across a range of specialties also had work published in national medical journals and received recognition for presentations of their work.
Congratulating the team, Deputy Medical Director for Education for the Southern Trust Dr Aisling Diamond said:
"We are very proud of our medical education team who through hard work and great imagination are now receiving such well deserved recognition for their commitment to the development of student and junior doctors who train with us in the Southern Trust. These awards are a true testament to our medical team and just a few of many examples demonstrating their determination to improve services."