Meet our Deafblind Specialist Workers
1st August 2022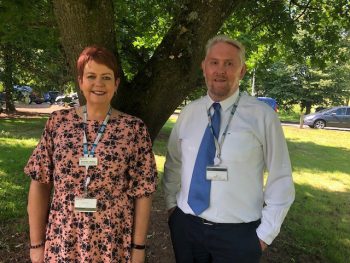 Deafblindness is a unique condition which is under-reported and can impact significantly on adults and children especially those with other disabilities and complex needs.
There are two Specialist Workers for Adults & Children with Dual Sensory Loss (Deafblind) working across the Trust area: Denise Lavery, and Ray Maxwell.
The role includes providing a specialist deafblind assessment to individuals with significant sight and hearing loss across all services.
The assessment looks at communication support, support with orientation and mobility, assistive technology, rehabilitation, social interaction and emotional wellbeing.
They offer advice, support and Deafblind Awareness Training to staff across the Trust including hospital settings, day care facilities and Nursing Homes.
Denise Lavery is based in Jackson Hall, St Luke's Hospital, Armagh, Tel: 028 3756 4444 and Ray Maxwell is based in Cherrytree's Resource Centre, Portadown, Tel: 028 3839 4088.