Mental Health Team Shortlisted for UK Award  
19th November 2020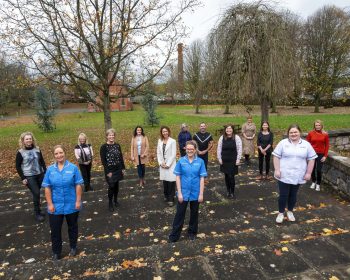 The Southern Health and Social Care Trust has been shortlisted as Mental Health Trust of the Year at the prestigious HSJ Awards.
The Trust's Primary Mental Health Care Team has been shortlisted from 1000 entries across the UK.
Since it was established in 2013 the team have helped to significantly improve waiting times for patients to access support and treatment.
Their aim is to make sure that people with mental health issues receive the right care, from the right service in a timely way. They offer a range of psychological and medical  support and work closely with GPs, Southern Regional College, partner agencies like the Housing Executive and the Community and Voluntary sector to promote mental health and wellbeing for local people.
Some of their key achievements over the years are: building relationships with the Mental Health Forum and Recovery College, ensuring service user involvement and patient experience is at the centre of all services; the development of a Well-mind hub; the launch of Stress Control classes with Southern Regional College and; the introduction of the Primary Mental Care Book to ensure pathways are efficiently and thoroughly followed for all patients.
Congratulating the team on making the shortlist, Director of Mental Health and Disability for the Southern Trust, Barney McNeany said: "We are absolutely delighted that our Primary Mental Health Care Team has received such well-deserved recognition for their hard work over the years. The team has shown such ambition taking a truly collaborative approach, developing relationships and working closely with partner organisations for the benefit of the mental wellbeing of our local population. By working closely with service users through the Mental Health Forum they have developed some very innovative approaches to promoting positive mental health and wellbeing, for example through the well-mind hub and their very popular stress control classes. They have also shown great dedication for those service users who need more intense treatment and support, ensuring that our patients get the best care for their specific needs, reducing waiting times and improving their potential for recovery."
Now in its 40th year, the HSJ Awards is the largest annual benchmarking and recognition programme for healthcare.
For more information go to https://awards.hsj.co.uk/
Winners will be selected ahead of the ceremony, which will take place virtually in March 2021.