Midwife takes part in International conference
7th March 2023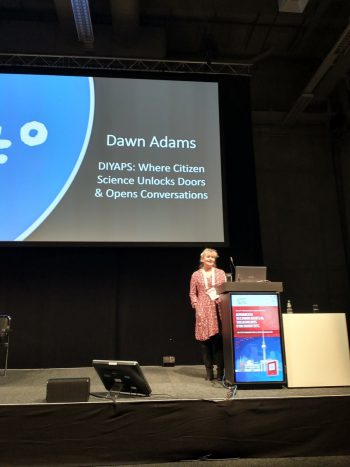 A midwife from the Southern Health and Social Care Trust has been speaking internationally about her research into pregnancy, type 1 diabetes and wearable technology.
Dawn Adams regularly provides education sessions for healthcare professionals from various disciplines about issues specific to living with diabetes, including developments in technologies available and pregnancy and was invited to speak at the Advanced Technologies and Therapeutics in Diabetes (ATTD2023) conference in Berlin by the German Diabetes Online Community (#DeDOCo) last month.
She has significant experience in providing care for women during the antenatal and intrapartum stages of pregnancy as she has worked as a midwife in Craigavon Hospital since 2009. She also has a great understanding of diabetes, having lived with it for the past 30 years and during her own pregnancies.
At the conference she shared her own experiences of searching for information to help her use technology and manage her diabetes throughout her menstrual cycle, during pregnancy, and during menopause.
"This is a topic which has not been investigated by clinicians or researchers to date. In November 2022, I was invited to present the results of a citizen science proof-of-concept study at the 9th International Conference on Electronic Sensors and Applications which was held in Madrid. The resultant conference paper entitled "A Pilot on the Endocrine Effects of Hormonal Replacement Therapy on Menopausal T1 Diabetics Using Wearable Sensors" was published online in November 2022.
"Sharing this analysis of data provided by women with Type 1 diabetes, experiencing perimenopause and menopause, has opened up conversations with clinicians and researchers. One particularly positive outcome has been that I have been offered the opportunity to collaborate with researchers from the OPEN Project to analyse data collected from global users of Do It Yourself Artificial Pancreas Systems."
Dawn has also been invited to speak at the All Ireland Midwifery and Maternity Conference in Dublin at the end of April. This presentation will be considering the use of currently available digital technologies for optimising glucose levels in pregnancy.