Midwives nominated for supporting their students
4th May 2023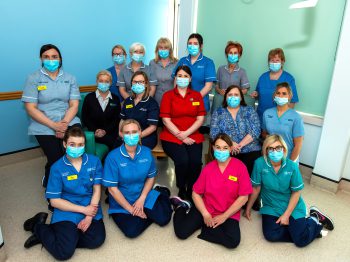 Midwifery students have nominated their peers for team and midwife of the year awards as part of celebrations to mark International Day of the Midwife.
Ward 2 West at Craigavon Area Hospital and Dungannon Community Midwifery Team have both been nominated for 'Team of the Year' while Sinead Campbell has been nominated as 'Hospital Midwife of the Year' in the QUB Midwifery Society Mentor Awards. The awards will be held as part of the International Day of the Midwife celebration events on 4th May.
The Team of Year award recognises a ward / team that has "come together and provided that much needed support, encouragement and inspiration through a students' time on placement", while the Hospital Midwife of the year award recognises a Practice Supervisor / Practice Assessor, who "continues to offer students their selfless support in such a busy workplace. With no task too big or question to silly, compassionately guiding students in their journey as the future of midwifery."
Wendy Clarke, Head of Midwifery, said:
"This is team 2 West's third year in a row being nominated in the same award category and is testament to the support that they provide their students who are on placement.
"Congratulations to all our finalists – they are an invaluable part of the maternity team and should recognise how far they have come and all that they do for our student midwives who undertake their placement with us."