Move with Mary
31st July 2020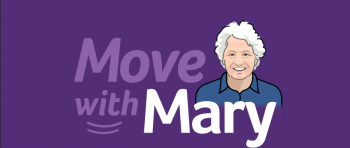 Age NI have teamed up with Lady Mary Peters to launch an exercise programme aimed specifically at keeping older people moving during the extended COVID-19 lockdown.
Move with Mary is a series of five exercise videos. They cater for every level of capability, ranging from simple seated stretches, to balance, strength and gentle aerobic exercises suited to older people. A booklet, 'Keeping Well at Home' compliments this online resource. For more information about the booklet CLICK HERE.
The launch comes as health experts have warned of the dangers to older people from a lack of regular movement and as UK research reveals that 40% of older people are worried about the effects of the lockdown on their mental health and physical wellbeing.

Copies are available on request: Email: physical.activity@southerntrust.hscni.net