mPower Project celebrates success with a 2-day shared learning festival in Belfast
18th May 2022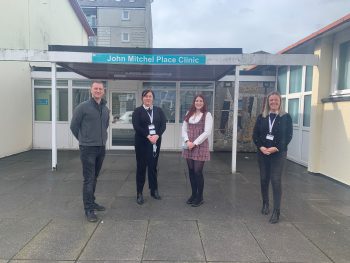 The 2-day mPower Festival held at the waterfront Belfast Hilton recently welcomed over 500 attendees both in person and virtually. The EU INTERREG VA funded €8.7million project called mPower finishes operations at the end of May and will formally close at the end of July.
mPower is a 5 year project managed by the Special EU Programmes Body (SEUPB) and delivered on a cross-border basis to support older people (65+) living with long-term conditions across the Republic of Ireland, Northern Ireland and Scotland.  The Project which started in late 2017 worked with partners and communities in Newry City, South Armagh and South Down to enable people to take the steps needed to live well, safely and independently in their own homes by self-managing their own health and care in the community.
The Festival, a shared learning event, took place in April. Over 90 speakers from the three jurisdictions were invited to deliver 19 sessions to celebrate the success of the project overall and specifically to share the learning around why it was so successful
The Festival was opened by Damien McCallion, Director General Cooperating and Working Together (CAWT), one of the project partners. Damien is also a HSE National Director. Damien was joined by Margaret Whoriskey, Head of Technology Enabled Care and Digital Healthcare Innovation, Deputy Director Digital Health and Care Directorate Scottish Government.
The feedback from delegates has been excellent and Programme Manager Alan Connor said "We couldn't have hoped for a better 2 days. The energy in the room was fantastic and it demonstrated how proud everyone involved within the project should be".
Project evaluation partners University of the Highlands and Islands told delegates that beneficiaries have found their interactions with mPower to be positive experiences. They particularly referenced decreased social isolation, decreased loneliness, increased feelings of empowerment and confidence, increased digital literacy and a facilitation of self-management behaviours.
The health department leads from the 3 local governments highlighted the value of cross-border working as exemplified by mPower. A case study showcasing the roll out of virtual health appointments across the Republic of Ireland was presented to demonstrate this value.
The focus for the second day was on the role of the voluntary and third-sector. Attendees heard about the Community Hubs that many of the local projects have set up and how these serve local rural communities to access healthcare appointments as well as social events, connection to friends and family and how they facilitate increasing digital literacy among older people.
The conference was attended by a wide range of stakeholders including policy professionals across the 3 governments, health and social care professionals including GPs and primary care teams, managers, and senior clinicians, and attendees from the community and voluntary sectors, all of whom work with older people living with a long-term condition.
Over 5 years, mPower has worked with over 6,900 older people, delivering 5,300 digital health interventions and over 2,700 wellbeing plans to support older people. Over 1,200 stakeholders from a range of sectors have benefited from the opportunity to participate in shared learning events and programmes.
In the Southern Trust area, 437 wellbeing plans (co-produced with the older people's organisations and community navigators) and 915 digital interventions were delivered, exceeding project targets for both.
Gerard Rocks, Assistant Director for Promoting Wellbeing in the Southern Trust, said: "I am immensely proud of the mPower team and their achievements brought about through extensive partnership working. Ultimately mPower is about people and how the project has helped them to improve their health and social wellbeing. During  the past 5 years approximately 500 older people in the Newry City, South Armagh and South Down areas have been empowered to build stronger connections to their communities and to get to grips with how technology can improve their access to help and support."
Community Navigators were employed to work with people referred from health and care services to develop wellbeing plans connecting them to activities in their community as well as connecting them to technology to enhance support for health and wellbeing.
Matched funding was also provided by the Departments for Health in Northern Ireland and the Republic of Ireland as well as the Scottish Government.
Please see mPower legacy web site for further details: mpowerhealth.eu