New enhanced Physiotherapy department benefitting patients
7th September 2023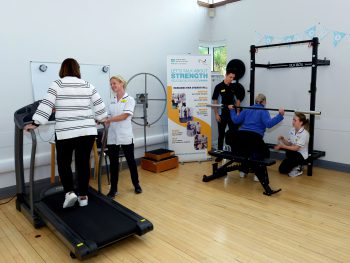 Over 20,000 appointments have been held in a new bespoke Physiotherapy outpatient department in the Southern Health and Social Trust following an extensive refurbishment.
Clover Physiotherapy Department, which is located on the St Luke's Hospital site in Armagh, became fully operational in January 2023. The redeveloped space now features 11 assessment cubicles and seven individual clinic rooms as well as a spacious gym which includes state-of-the-art equipment.
Cathy McKeown, Head of Physiotherapy, said this was a very proud day for Physiotherapy services in the Armagh catchment area.
"It is so exciting to see our new department fully functional and providing an excellent service to our local population with such a well-equipped gym".
Cathy also said that the move to Clover has also provided space for Podiatry, Dietetics and Speech and Language Therapy teams to move into newly refurbished departments on the Tower Hill site.
Michelle McGeown, Lead Physiotherapist, who manages Clover Physiotherapy Department said:
"In our role as physiotherapists we place a huge emphasis on empowering patients to be confident with their exercise programme to manage their injury or condition.  The huge gym area is the epicentre of the department and allows regular large groups of service users to perform specific prescribed exercises under the guidance of a physiotherapist or exercise professional.
"The unit is occupied predominately by the Musculoskeletal (MSK) Physiotherapy outpatient department clinic but we also have other teams using it, including the Occupational Health Physiotherapy Team, Pelvic Health team, Long COVID clinics, and community stroke team."
Brian Beattie, Director of Adult Community Services, thanked all those involved in the project.
"This is a fantastic facility which will really benefit the patients who use it.
"The completion of Clover Physiotherapy Department is a great example of collaborative working across our Allied Health Professionals, Estates and Finance Departments and Corporate Planning Team. It is fantastic to see this excellent accommodation being refurbished into a thriving clinic space for our staff and service users."