New Physiotherapy Outpatient Department at St Luke's Hospital
4th April 2022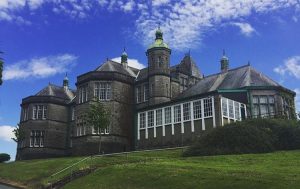 A new Physiotherapy Outpatient Department has opened on the St Luke's Hospital site in Armagh.
Located in the Clover building, the new department has officially opened today (4th April) and will have a significant impact on improving the quality of the services offered to patients.
The newly refurbished facility boasts excellent car parking space, a large gym, which is ideal to support rehabilitation, as well as multiple individual treatment rooms and cubicles.
Brian Beattie, Interim Director of Older People and Primary said: "The Covid-19 Pandemic has challenged all Trusts, in terms of increased demands on staff, managing infection prevention control requirements and in finding sufficient space for services in light of social distancing and treatment space, which has regrettably had an impact on waiting times for some patients.
"In response to particular pressures on the Physiotherapy Musculoskeletal (MSK) Service, the Trust has established an additional Physiotherapy Outpatient Department in Armagh."
Brian continues: "While the service will continue from all existing sites we are delighted that this this new Department will allow our specialist team to support more patients who have been waiting on Physiotherapy."
Patients referred to the new department will be notified through their appointment letter.