New service will maintain mental wellbeing throughout the perinatal period
2nd May 2023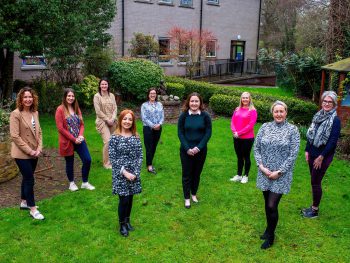 As part of Maternal Mental Health Awareness Week, the Southern Trust is shining a spotlight on the support it is offering through its newly developed specialist Perinatal Mental Health Service (PMHS).
The multi-disciplinary community service provides wraparound maternity and mental health care to women in the perinatal period experiencing mental health difficulties.
The highly specialist team, comprising of consultant perinatal psychiatrist, mental health nurses, a midwife, a health visitor, an occupational therapist, a social worker and a clinical psychologist, work jointly with other healthcare professionals to increase awareness of mental illness and offer support and interventions to women through their pregnancy and up until one year after birth.
Ursula Tumelty, Perinatal Mental Health Lead Nurse, said that mental health problems are very common in the perinatal period.
"Up to one in five women struggle with their wellbeing during this time. We know that women often suffer in silence, but we also know with the right treatment and support that the prognosis is good.
"Our team are very passionate that all mothers deserve timely access to and appropriate care for their mental health. Our care is tailored and individual, designed to wrap around the whole family, supporting the mother, focusing on help and guidance to enhance her relationship with her baby, support for partners and family members as well, to help them to guide their loved one through their illness and also look after themselves.
"I'm really pleased to see the development of the new service as this will have a long lasting positive impact on the outcomes for women and their babies."
Jan McGall, Director of Mental Health and Disability, said:
"This service is vital in meeting the needs of women and families throughout pregnancy and the early years of life.
"We know Perinatal mental health difficulties can have a significant impact on new mothers, their babies, partners and families, however with timely support and intervention, recovery and good mental health can be achieved.
"The development of the Perinatal Mental Health Service is a welcomed addition to the Southern Trust, an area with one of the highest birth rates in Northern Ireland."