New team transforming antibiotic care at home
11th December 2019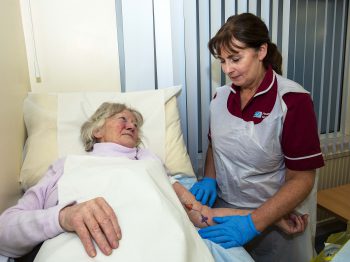 An estimated 2,766 days which people may have otherwise spent in Southern Trust hospitals were avoided last year thanks to a new service managing antibiotic treatments at home.
The Outpatient Parenteral Antimicrobial Therapy Service (OPAT) is a team of microbiologists, pharmacists and nurses who look after patients being discharged with ongoing antibiotics – for example with abscesses, bone or other infections.
Since they set up last year, the team works closely with district nursing, helping to prevent hospital admissions, supporting earlier discharge and enhancing overall patient experience.
Funded through the Department of Health's Transformation Fund, the team, using pharmacists in an enhanced clinical role, is having a significant impact on patient care. Lead OPAT Pharmacist Peter McKee explains:
"Ward staff refer patients to our IV nurse co-ordinators who screen their suitability for the service. An OPAT pharmacist or doctor reviews the patient and then together with our microbiology consultant, determine the best course of treatment.
"Now in many cases we can avoid intravenous treatment by finding a suitable alternative oral antibiotic, which frees up busy district nursing colleagues and is much less invasive, lower risk and more convenient for the patient.
"If an intravenous option is needed, the IV co-ordinator can also insert a special intravenous line suitable for use at home if needed. The IV co-ordinators are also the link for the district nurses and are on hand if any problems emerge.
"Patients' treatment is discussed at a weekly multidisciplinary meeting and they are reviewed by the team at a fortnightly clinic. Their treatment can last from anywhere between one day to a few weeks.
"The enhanced role of the pharmacist is also helping to make the most of our Consultant Microbiologists' time, by reviewing patients and clinical planning in advance.
"With reduced repeat dispensing and increased use of oral alternatives, we now also have much better medicines management.
"Most importantly the service is really improving patient outcomes – with patients now needing an average of five days less on antibiotic therapy, readmission rates reduced by over 50% and the risk of healthcare acquired infections minimised by the shorter time on antibiotics."
From November 2018 to September 2019, 160 patients used the service and feedback has been very positive. Some comments from patients include:  "I sincerely commend the team for their care and attention" and "Top class service – very pleased with every aspect of care and treatment."
Watch a short video about this service here.