Nightingale Challenge!
25th February 2020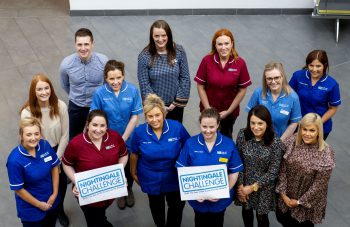 A group of nurses and midwives from the Southern Trust have been selected to take part in a global drive to raise the profile of their profession.
The World Health Organisation has declared 2020 the 'Year of the Nurse and Midwife' to celebrate the 200th Anniversary of Florence Nightingale's birth.The 'Nightingale Challenge' aims to recruit 20,000 nurses and midwives from 1000 organisations across the world to take part in learning and networking events throughout the year.
The Southern Trust 'Nightingales' will participate in an exciting leadership and development programme to help build the knowledge and skills of the future generation of nursing and midwifery leaders.
Launching the Nightingale Challenge in the Southern Trust, Executive Director of Nursing, Midwifery and Allied Health Professionals, Heather Trouton said:
"Making up over a third of our workforce, nurses and midwives are absolutely vital in delivering safe, high quality care to our patients and clients, right across, hospital and community settings and even in people's own homes.
"We have a fantastic team of compassionate and highly professional midwives, nurses and nursing assistants who every day go above and beyond to improve the health and wellbeing of local people.
"We are absolutely delighted to participate in this global drive to support the leadership development of our young nurses and midwives and to promote the important role of the profession in addressing some of the challenges we face in health and social care and helping to transform services into the future."
#Nurses2020  #Midwives2020
#bettertogether #teamSHSCT