Northern Ireland Does The Daily Mile Event Friday 28th May 2021. Come join us!
10th May 2021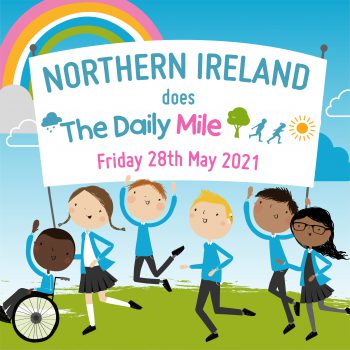 The Daily Mile Network in partnership with Daily Mile Foundation are hosting its first national event day in schools and across social media, to get children across Northern Ireland active together at the same time on Friday 28th May 2021.
"Northern Ireland Does The Daily Mile" is a virtual mass participation event across all Northern Ireland primary and nursery schools. On the 28th May, schools and nurseries around the country, will run their Daily Mile virtually, together in an effort to raise awareness for children's mental health and wellbeing.
The Daily Mile, currently has over 3 million children running a daily mile across 12,000 schools in 80 countries but this is the first national event of its kind. The hope is to capture the camaraderie that children have missed while schools have been closed, and give young people the chance to get involved in fun healthy activities.
The Daily Mile is a transformative initiative where children run, jog, wheel or walk for fifteen minutes every day, in which time, most children will average a mile or more. The initiative has enjoyed phenomenal success since it was started by then Headteacher Elaine Wyllie just eight years ago at a single primary school in Stirling. Today 3 million children worldwide are now running a mile a day.
The Daily Mile Network NI co-chair and Stranmillis University College Lecturer Dr Brenda McKay-Redmond is encouraging schools to sign up to "Northern Ireland does The Daily Mile". "Over 300 schools in Northern Ireland have signed up to The Daily Mile and now that we have children back in schools, we want to remind and encourage schools to continue to participate in The Daily Mile in their class bubbles.
Fifteen minutes of exercise, jogging or walking, whilst outside when it is safe to do so, can lead to everyone becoming happier, fitter and stronger. Self-esteem, wellbeing and satisfaction can also improve mental health, so let's keep our hearts and minds healthy by having fun, fitness and freedom in the fresh air, by continuing to love The Daily Mile."
Schools can register for free here  and will receive a fun, downloadable resource pack and certificate after the event. If the school is off on the day, please go ahead and register anyway and schedule in for another day but please tag us on social media with your pictures.
For more information on The Daily Mile itself, please visit: https://thedailymile.co.uk/