Northern Ireland hosts its first virtual Daily Mile Day!
23rd June 2021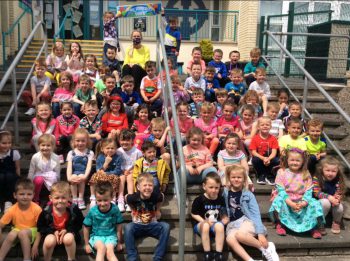 On Friday 28th May 392 nursery & primary schools participated in Northern Ireland Does The Daily Mile Day to celebrate the new partnership agreement with Daily Mile Network NI and Daily Mile Foundation. The event encouraged schools to register and participate in their own Daily Mile, by being active together, on the same day. The day aimed to raise awareness of the positive impact being active can have on children's mental health & wellbeing.
The Daily Mile™ initiative was started nine years ago by Head teacher Elaine Wyllie in Sterling and has since enjoyed momentous success with three million children worldwide now running a mile a day across 12,000 schools in 80 countries, but this was the first national event of its kind in Northern Ireland.
Brenda McKay-Redmond Chair of the Daily Mile Network in Northern Ireland said "As a Network we are delighted with the number of schools, children and staff who took part in this first regional NI Does The Daily Mile event. We are passionate in our belief of getting children active and healthy. The aim of The Daily Mile™ is to improve the physical, emotional, and social health and wellbeing of children regardless of personal circumstances or age, creating healthy habits for life. The Daily Mile™ is a free and effective programme, and its impact can be transformational – improving not only children's fitness, but evidentially also their concentration levels, mood, behaviour, and general wellbeing. Our regional aim is to get all children everywhere participating in the inclusiveness of The Daily Mile™ in Northern Ireland."
Colette Brolly the Public Health Agency's lead on Physical Activity, said: "We were delighted to support the first 'Northern Ireland Does The Daily Mile Day'. Being physically active is really important for children and daily activity will have a positive impact on both their physical and mental health. Being active is something that can make you happy, it is a chance to have some fun and it lets you connect with others. The event was a fantastic achievement in getting children moving on the same day and celebrating the positive benefits that daily activity can have on their physical health and emotional wellbeing."
We would like to encourage all schools and nurseries in Northern Ireland to sign up to The Daily Mile™. To register for The Daily Mile™ please visit:  https://thedailymile.co.uk/