Nursing and midwifery staff recognised for making a difference to student placement
21st March 2023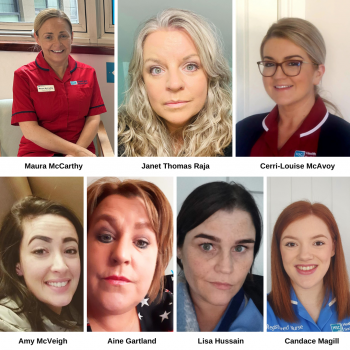 Eleven nursing and midwifery staff from the Southern Health and Social Care Trust have been recognised for their outstanding contribution to the practice education of nursing students on placement.
The staff who work across both hospital and community settings have been nominated by Queen's University nursing students for a Practice Supervisor award. The awards are in recognition of the contribution that colleagues in practice provide student nurses and student midwives to ensure that they develop and learn their clinical skills.
They will attend an event later this month to celebrate the achievements of the School of Nursing and Midwifery.
Those nominated include Gail Ryan, Janet Thomas Raja and Candace Magill who work in Children's and Young People Service, Midwives Amy McVeigh, Edith Henry and Louise O'Callaghan, Aine Gartland who works as a Community Psychiatric Nurse, Lisa Hussain and Cerri-Louise McAvoy who work in Adult Community Services, Maura McCarthy from Theatres and Day Procedure Unit and Gemma Farry who works in a medical ward.
Heather Trouton, Executive Director of Nursing, Midwifery and AHPs, said:
"It is wonderful to see so many of our colleagues being recognised and I am proud that they are helping to have such a positive impact on our future workforce.
"Our staff consistently go the extra mile to ensure our students receive the best education and training while studying in the Southern Trust and our students continue to impress us with their dedication and hard work. This is a fantastic achievement and I commend the drive and determination that has gone into making our students' experience the best it can be.
"A good supervisor helps to shape a student nurse or midwife, and help inspire and motivate them throughout their course as well as their chosen career. Without our student nurses, we wouldn't be able to ensure the future of nursing so training good nurses is so important."