Out of Retirement to fight Coronavirus
28th July 2020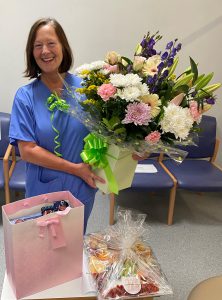 Ruth Best retired from her post as senior Intensive Care Unit (ICU) Physiotherapist in 2019.
With the Health Professionals Council granting temporary registration to retired staff to help with the pandemic, Ruth was able to begin working in ICU at the beginning of April.
For the next three months Ruth worked closely with ICU doctors and nurses to care for Covid-19 patients whilst also providing steady and practical support to both experienced and new physiotherapists in what were new and challenging situations.
Anyone who has worked with Ruth knows the gentle, ever-smiling and hard-working person she is. With her kind and engaging personality she always encouraged patients to achieve the best they could and strived to provide high quality care for her patients with her expert clinical skills and treatments.
Thank you Ruth for all your hard work and dedication!