Outdoor makeover for Slieve Roe, Crozier House and Roxborough House
8th July 2021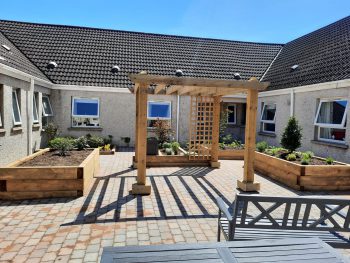 Residents at Slieve Roe, Crozier House and Roxborough House will be enjoying the summer months in their newly revamped gardens and courtyards.
All three Residential Homes have undergone outdoor transformations thanks to the Mental Health Innovation Fund.
Tierna Armstrong, Head of Statutory Residential Care for the Southern Health and Social Care Trust said:
"Whilst our residential homes have plenty of outdoor space, we knew that we could make improvements to accessibility and appearance to help encourage everyone to use them more.
"Staff and residents have really enjoyed getting involved in planning and redesigning their gardens and courtyards and thanks to our estates team we have been able to complete the work in time for summer.
"We all know the benefits of getting outside for fresh air and gentle exercise and hopefully there will be more good weather so our residents, staff and families can make the most of their new beautiful outdoor spaces."