Physio students complete degree and gain employment during pandemic
3rd June 2020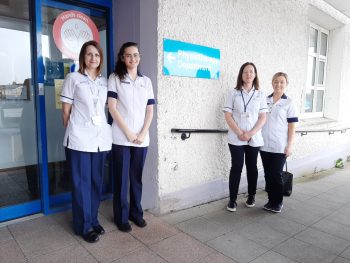 Over the past number of weeks, 10 final year physiotherapy students from the University of Ulster have completed clinical placements across the Southern Trust.
The university worked closely with Trusts and the Department of Health to ensure that all year three Physiotherapy students could be accommodated and complete their degrees despite the pandemic.
The students responded to the call to complete the required 1000 clinical hours to finish their degrees despite the circumstances, allowing them to apply to the temporary register and join the Trust in the frontline fight against COVID-19.
Two of the students, Anna McCracken and Cliodhna Mulholland are both following in their mothers footsteps. Eileen McCracken and Fiona Mulholland are both Band 7 physiotherapists working in the Trust's Integrated Care teams (ICT). Anna and Cliodhna witnessed the challenges faced by their mothers, yet embraced the learning and donned the Personal Protective Equipment. Eileen's daughter, Anna, completed her placement on the 1st May and has started work with the ICS Armagh and Dungannon team.  Cliodhna, who finished her placement on the 5th May, will be starting with the Physical and Learning Disability Team.
Aoife Trainor joined the acute in patient team in Craigavon Area Hospital on her placement.
"Going out on this placement was definitely the most daunting one yet because of all the uncertainty about COVID-19 at the time, but I wasn't to worry for long. I've have never felt more comfortable on placement and that's thanks to all the lovely people that looked after me and took me under their wing," said Aoife.
Ian Coomber, another physio student said: "I was welcomed into the Southern Trust were I worked on wards, in care homes and out in the community. My induction was informative and reassuring and the teams worked with me to make sure I was safe, comfortable, confident and up to date in all matters as the situation and landscape changed around us."
Teresa Ross Head of Physiotherapy Services in the Southern Trust added: "I really want to welcome this group of new graduates into our physiotherapy services. It is great to see that succession planning has been very effective as we have daughters following in their mothers footsteps in becoming Physiotherapists. This demonstrates the family ethos within the profession and within AHPs and the drive and motivation to provide highly effective physiotherapy services for our patients. Welcome everyone and we look forward to working with you in the future."
Many thanks and congratulations to all our students who have successfully completed their studies and who are joining the Southern Trust as Band 5's – Anna McCracken, Cliodhna Mulholland, Ian Coomber, Sean Tierney, James Carragher, Sarah McKitterick, Julia Morrison, Charity Whinnery, Aoife Trainor and Eamon Quinn.