Range of innovative wellbeing initiatives introduced @ The Library
10th October 2022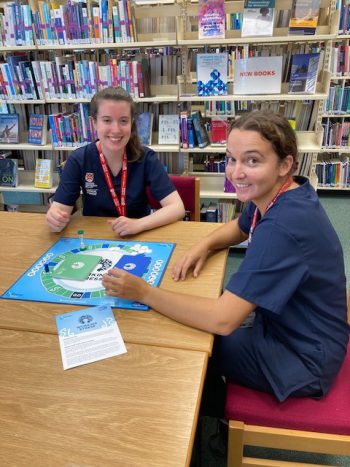 A number of new initiatives have been introduced to support the health and wellbeing of Southern Health and Social Care Trust staff and students.
The book collection at the Trust's 'Wellbeing @ The Library', located in Craigavon Hospital's Healthcare Library, has recently been extended to include titles on physical, mental and emotional wellbeing, including grief.
The vast range of health and wellbeing themed books can now also be accessed by staff right across the Trust area via a new internal mailbag system, which ensures that their delivery and return is both secure and private.
A number of these books are also available as e-books and other items have been introduced to the library including massage chairs, an under desk cycle, light boxes and a standing desk, which have all been funded by the Mental Health Innovation Fund.
Nina Daly, Health Improvement Lead for the Workplace, said that these latest enhancements have been introduced to support staff and student protect and maintain both their physical and psychological health and wellbeing.
"Wellbeing @ The Library is just one example of how the Trust is working to support staff and students through implementation of its Health and Wellbeing Framework and Action Plan 2022-2023. A key priority of this plan is to create Healthy Workplaces by providing and enhancing our physical working environment to ensure safe, welcoming and positive spaces for staff to work, rest and recuperate.
"The Trust covers a vast area and we are delighted to roll out this mailbag initiative which enables staff from Kilkeel to Dungannon to access this developing book collection and look after their wellbeing."
Hazel Neale, Healthcare Librarian, added:
"The Wellbeing @ The Library initiative launched in June 2021 and has enhanced the already great service that the healthcare library provides. Fifteen months ago new art work was installed and a range of new books on wellbeing topics like anxiety, long term conditions, sleep, compassion, wellbeing, happiness and positive psychology were made available. We are delighted to be able to expand this growing collection of books to help our staff and students relax and stay healthy. Whether you want to improve your mental health, live a healthier lifestyle, or find a new hobby, the collection has something for everyone."
Brian Beattie, Interim Director for Older People and Primary Care, said:
"Staff wellbeing has always been a priority for the Trust, but in recognition of the impact of the pandemic, we have stepped up our health and wellbeing support. All these fabulous resources are available to all Trust employees and students on placement, and can be accessed 24/7 with your ID Badge. I urge all our colleagues to take the time to look after yourself."
Staff and students can join via https://healthcarelibrary.qub.ac.uk/ and/or contact the library at ext. 62108
You can view the wellbeing booklist here