Rheumatology success in Southern Trust
20th April 2023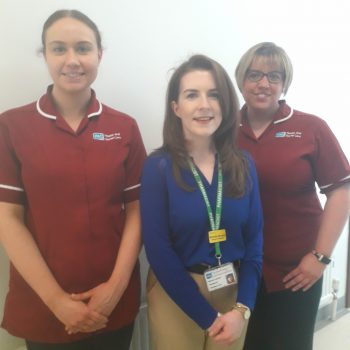 Nursing and pharmacy staff from the Rheumatology team in the Southern Health and Social Care Trust have been recognised for a number of positive initiatives that they have introduced to their service.
Rheumatology Specialist Nurses Lesley Ann McWilliams and Shannon McCourt and Biologics Pharmacist Michelle Murphy will be showcasing their successes, which has led to better patient participation, increased patient safety and saved nursing and medical time, at international conferences in the UK, Milan and Copenhagen.
Rheumatology deals with painful, typically inflammatory or infectious conditions of the joints and other parts of the musculoskeletal system.
Michelle introduced a Pharmacist-led blood monitoring clinic for Janus Kinase Inhibitors and since the establishment of the clinic, Michelle and her pharmacy team have made several significant interventions, including medication adherence, detecting haematological abnormalities that required JAKi dose reduction and identifying patients suffering from infection requiring intervention.
"The introduction of the clinic has increased patient safety by ensuring compliance with blood monitoring as per hospital guidelines. It has also expanded the role of the rheumatology pharmacy team and saved nursing and medical time," said Michelle.
This project is being showcased at the International Forum on Quality and Safety in Copenhagen and for abstract publication at EULAR 2023 in Milan.
Due to the increasing incidence and prevalence of gout as well as the rising numbers of Emergency Department attendances, Lesley Ann introduced a nurse led gout service in the Trust. However, within three months of the service starting, COVID led to the closure of routine outpatient clinics. In order to effectively continue the gout service and in particular to reduce the demand on healthcare services and ED attendances caused by gout attacks, the decision was made to switch the gout clinic to an entirely telephone service.
Lesley Ann said that it was well received by patients, resulting in better patient engagement and participation. The service was able to provide education, deliver effective reductions in serum uric acid, reduce incidence of flares and thus easing pressures within other clinical areas.
"While in-patient appointments have been restarted, a greater proportion of reviews will continue to be offered by telephone given this model's unexpected success," said Lesley Ann.
Shannon's work on evaluating patient satisfaction following the introduction of virtual injection training for patients switching from oral tablets to subcutaneous injection is also being showcased at the European Congress of Rheumatology EULAR 2023 in Milan. This had been carried out face-to-face in a clinical setting before the COVID-19 pandemic.
"99% of the patients were satisfied with the training and 100% would recommend the remote training to another patient," said Shannon.
The Rheumatology team are also part of an international study looking at real-world data for a Biologic drug in inflammatory arthritis with a poster presentation at the American College of Rheumatology in October last year.
Orlagh Murphy, Head of Service for Rheumatology, said:
"I am extremely proud to have our colleagues in the Rheumatology team showcasing their innovative initiatives via posters at these international events. They continually strive to provide a high quality service to our patients and it recognises their commitment and hard work to improving our patients' experience."