Roster approval rates increase
4th October 2022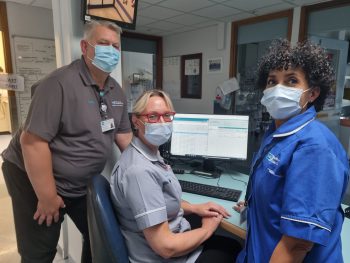 A new project by the Southern Health and Social Care Trust's HealthRoster team has provided a better work life balance and greater satisfaction for nursing staff.
Staff within the Trust's nursing and midwifery teams engaged collaboratively with the HealthRoster team, to ensure that ward rotas can be agreed much earlier.
This has allowed nurses to plan their work around their life and has led to a reduction in sickness and unauthorised absence for the ward to manage.
Roster approval times improved from a range of 40% to an impressive 100% within the nursing and midwifery rosters.
Roster approval is a management system and workforce tool the Trust use to enable the effective, safe and equitable utilisation of staff and resources.
Leanne Straney, Nurse Lead for HealthRoster, said:
"Roster approval has a direct link to positive staff and patient outcomes and is a highly effective tool to support those we care and work alongside.
"Great communication skills and collaborative working have been the key to our success in enabling the publication of rosters to staff up to six weeks in advance in some instances.
Heather Trouton, Executive Director of Nursing, Midwifery and AHPs, said:
"A massive well done to all our teams on the wards who have been part of this amazing project. We know that work-life balance is a key element of any 'great place to work' and I am delighted to hear that this has improved levels of staff engagement and created a sense of fairness and equity across our amazing nursing teams."
Well done to
Lead Nurse Trudi Kelly and Ward Sister Karen Kelly for ward 1 South who have increased to an approval rate of 100% of rosters approved on time since commencement of the quality improvement initiative.
Ward Sister Stephanie Doherty-Conway who consistently publishes Orthopaedic roster a minimum of four weeks in advance.
Neonatal ward clinical sister Sharon Allen, ward manager support Lynda Lindsay and HealthRoster support officer Mark Fisher.