Service arrangements for Monday 19 September 2022
15th September 2022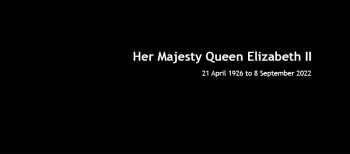 Monday 19 September 2022 has been designated a Bank Holiday to mark the State Funeral of the late Her Majesty Queen Elizabeth II.
Whilst there will be some disruption to our planned activity, we want to limit the impact on patients and service users as much as possible.
Those who have had their appointment/procedure postponed will be notified directly and will receive a rescheduled date as quickly as possible.
If you are scheduled to attend for an appointment/procedure on Monday 19 September and do not receive communication from us please attend as planned.
---
Staff
Following the announcement of the death of Her Late Majesty, Queen Elizabeth II, a period of National Mourning is underway and will continue until the end of the day of the State Funeral, which is due to take place on 19th September 2022.
The public have been invited to take part in a National Moment of Reflection at 8pm on Sunday 18 September, the night before the State Funeral, marked by one minute's silence.  There will also be a national two minutes' silence at the end of the funeral service just before midday on Monday.
Any staff member on duty at these times who wishes to take part, will be facilitated.
Statement from Department of Health on Health and Social Care arrangements for Monday 19 September 2022