Service users and staff have artwork displayed at exhibition
1st March 2023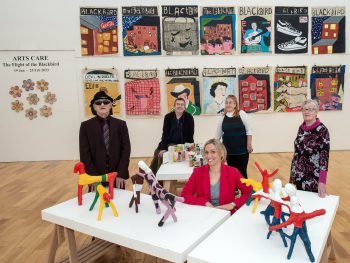 A group of service users and staff from the Southern Health and Social Care Trust have had a variety of work displayed showcasing their artistic talents.
The Flight of the Black Bird art exhibition was on show at Armagh Market Place.
The Arts Care Artists-in Residence in the Trust Jill McKeown and Eddie Rafferty, facilitated participants to create artwork for themselves and to enhance their environments. The exhibition showcased artworks, which respond to individual reflections, expressions and curiosities of life in a broad range of mediums including painting, printmaking, sculpture and book arts.
Jan McGall, Director of Mental Health and Disability said that the exhibition was a testimony to the impact art has on staff and service users.
"This was a great project for both our staff and service users to be involved with and I am delighted that everyone found it beneficial and enjoyable. Creativity is key to our health and wellbeing and we hope that service users and staff will continue exploring and developing their artist talent in the future and that it might inspire others to get creative too."