Share your decision on organ donation this Valentine's Day
14th February 2020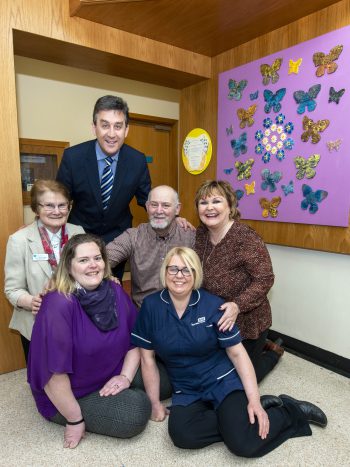 The Southern Trust is encouraging people to 'have the chat' with those you love and share your decision about organ donation this Valentine's Day.
There are currently around 137 people waiting on a transplant in Northern Ireland.
Edel Livingstone, Specialist Nurse for Organ Donation for the Southern Trust says:
"Despite the great advances in organ donation and transplantation, there are still many people waiting for a life-changing transplant across Northern Ireland.
"Donating an organ is one of the most generous things you can do for another person. We always ask people if you needed a transplant would you have one – and if yes please think about signing up to help those who really are in need now of donated organs or tissue.
"So we ask everyone this Valentine's Day to think about joining the register – have the chat, share your wishes and pass it on."
A specially commissioned artwork in honour of all of those who have donated organs has been installed outside the church at Daisy Hill Hospital. Created by artist, Diane McCormick, the design features forget-me-not flowers to symbolise that organ donors will always be remembered, butterflies to represent the new life of receiving an organ and daisies for the name of the hospital.
Jennifer Malone attended the unveiling of the artwork in memory of her mother Barbara Andrews who was a domestic assistant at Daisy Hill throughout her working career. Through organ donation, Barbara helped to save a number of lives after her death.
Jim Henry who received both a kidney and pancreas transplant in 2018 also attended in recognition of all of those who give organ recipients the gift of life. Jim and his wife Linda paid tribute to the staff in the Renal Unit at Daisy Hill and the transplant teams at Belfast City Hospital and the Royal Infirmary Edinburgh.
To register to become an organ donor visit www.organdonation.nhs.uk or text SAVE to 84118. If you're not sure if you are registered or would prefer to speak to someone about your decision call 0300 123 23 23