Showcasing health and social care careers for young people in Newry and Mourne
5th November 2019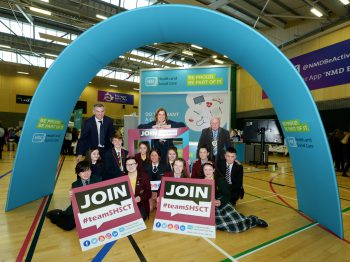 The Southern Trust and Newry Mourne and Down District Council have teamed up to host the biggest ever health and social care careers event in the area.
Around 1,000 young people from local post primary schools, the Southern Regional College and general public, dropped in to the event at Newry Leisure Centre today to see the wide range of career opportunities available across the Trust.Staff including nursing, medicine, pharmacy, social care and allied health professionals showcased their roles along with support services like administration, catering, finance, laboratories, estates and many more. The Human Resources team were also on hand to advise on training and employment opportunities.
The fun filled day included a range of interactive demonstrations, a QRadio broadcast, freebies and prizes donated by Newry BID (Business Improvement District).
Speaking at the event, Vivienne Toal, Director of Human Resources and Organisational Development for the Southern Health and Social Care Trust said:
"Increased demand right across all of our services is creating great challenges on our workforce and it is so important that we plan ahead to meet the needs of our growing population into the future.
"Through the Daisy Hill Pathfinder Project, we have great support from local community representatives, the Chamber of Commerce and the Council to help develop our workforce in this area and we really appreciate their support in making this event happen today.
"We are delighted that so many young people, teachers and parents, have showed such an interest today   in working in health and social care.
"There is a very diverse range of job opportunities throughout the Trust – from caring roles in hospital and community services to a wide variety of other professional and support positions.
"We hope that some of the young people who attended today will now be encouraged to pursue a career path in some of these areas and would love to welcome them to work with us in the Southern Trust in the future."
Thanks to Newry BID, Q Radio, Nugelato, Friar Tucks, Friscos Frozen Yoghurt, Omniplex, Newry Leisure Centre, Linwoods and Coca Cola for donating prizes.
For more information about the Southern Trust go to: