Signs of Safety success in Southern Trust
17th October 2019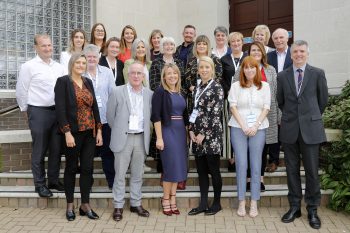 The implementation of the Signs of Safety practice approach in the Southern Trust is transforming how social workers engage with children and families at some of the most difficult times in their lives.
'Signs of Safety' practice approach and associated training was launched as part of a wider programme to reform family and children's social services across Northern Ireland. Funding was allocated from the Department of Health's Transformation Fund to roll-out the practice model across the Southern Trust.The Signs of Safety approach supports staff to work in greater partnership with families. It helps families to   recognise and understand why social services are concerned about them and allows parents to be more involved in the changes they need to make.
Since it was introduced in the Southern Trust last year, 66% of all children's services social work and social care staff have completed the programme. An additional 126 have also received more in depth 'Core' and 'Advanced Practice' Signs of Safety training. A further 300 representatives from partner agencies in the area have also been trained or attended awareness sessions.
Congratulating the Southern Trust team on the success of the implementation of Signs of safety to date, David Douglas, Assistant Director of Family Support and Safeguarding said:
"Social workers have a vital role in supporting families and safeguarding children. The Signs of Safety approach is relationship and strengths based and the involvement of families and their support network provides the best opportunity to reduce harm and build safety for children in need of protection and support.
"By building on the skills and experience that our social workers already have, Signs of Safety helps them to respond more quickly to the needs of families, identify worries, what is working well and next steps aimed at keeping children safe from harm.
"Feedback on the programme has been very positive, with both families and staff reporting how it is helping to break down barriers and build relationships.
"I would like to pay tribute to our own Trust staff and agencies across the area for their hard work and dedication in making such a positive difference to the lives of children and their families."