Slieve Roe House celebrates 40th anniversary
16th January 2020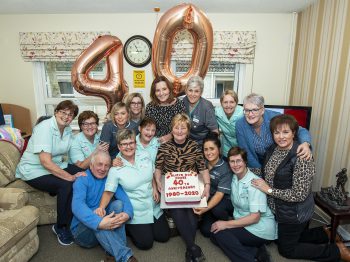 Residents and staff of Slieve Rose House celebrated its 40th anniversary last week.
Staff, residents gathered with family, friends and volunteers to celebrate its four decades in existence. Slieve Roe House, on the Manse Road in Kilkeel, currently provides residential care for 17 residents.
Refreshments were served and the party continued into the late afternoon, with music from Danny Doran.
Hylda Patterson, Slieve Roe House Manager, said: "Everyone enjoyed our day of celebrations and it was fantastic to celebrate its four decades with the residents, staff and family and friends.
"The team we have in Slieve Roe leads a dedicated, caring and compassionate team of staff who work hard to provide our residents with the very best in later life care. A small group of volunteers have also given years of support.
"There are two members of staff who started working in 1981 and with unbroken service, have now 39 years of service in Slieve Roe. Their names are Jennifer Annett and Roberta McConnell.
"Time passes by quickly and we all have many happy occasions and memories in Slieve Roe House.
"Over the past year the staff and residents celebrated three 100-year-olds birthday parties all within a few months of each other. In February there will be another party to celebrate Mary Sloan who will be 101 birthday."