Southern Trust delivers virtual post-box
20th May 2021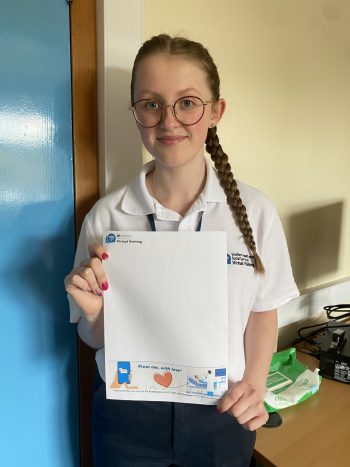 Patients in Southern Health and Social Care Trust hospitals are now able to receive messages of support from their loved ones by virtual post box.
This new 'Send a Message to a Loved One' service will support family and friends to share letters or messages with their loved ones, who are currently inpatients. This is in addition to our Virtual Visiting Service, which uses tablet devices to connect calls to loved ones in hospital.
Neal Morgan, Renal Consultant and Virtual Visiting Lead, said that this personal messaging service is a great addition to the expanding Virtual Visiting Service.
"The Trust has continued to keep loved ones connected throughout the Coronavirus pandemic and we wish to continue supporting families to stay connected with their loved ones during these difficult times.
"While many patients will be able to pick up the phone and call or message their relatives themselves, not everyone who finds themselves in hospital will be able to do this. Our Virtual Visiting Officers are available to support video calls and we are delighted to now offer this new service whereby relatives can email messages to their loved ones.
"These letters or messages are emailed to our team, we will then print and hand deliver them to your loved one to help you stay in touch. If necessary, we can also read your message out loud to your loved one.
"Taking the time to handwrite a letter shows you care, that you've made an extra effort and you've really considered the other person.
"Communication and keeping in touch with loved ones is important to help reduce anxiety and any feelings of isolation from the outside world. So we are delighted to now be able to offer patients these messages of support in addition to our Virtual Visiting calls."
If you would like to send a message or a letter to a loved one who is currently an inpatient in one of our hospitals please email : virtual.visiting@southerntrust.hscni.net  including the patient's full name, hospital site and ward.
We will only accept messages addressed to specific patients from their family members or friends and will not accept or pass on anonymous letters.
---
Photograph: Zara McClure, Virtual Visiting Officer in the Southern Trust, will be part of the team who will hand deliver your letters or messages to your loved one in hospital as part of an expansion of the Virtual Visiting Service to now include the virtual post-box.