Southern Trust honours those who gave the gift of life
14th February 2023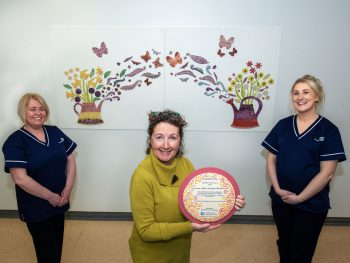 Two ceramic artwork pieces have been installed at Craigavon Area Hospital to honour those who gave the 'gift' of life by organ donation.
Diane McCormick, a ceramic artist from Dungannon, created the artwork entitled 'From me to you' which consists of one large portrait and one large landscape detailed with flowers, symbolising the gratitude, compassion and love expressed by families whose loved ones have been cared for at the end of life. The artwork is on display on the Broadway corridor.
Ronan Carroll, Assistant Director Surgery and Elective Care and ATICS said: "Transplants are one of the most miraculous achievements of modern medicine but they depend entirely on the generosity of donors and their families who are willing to make this life-saving or life-enhancing gift to others. One donor can save the life of up to nine people who are awaiting a transplant.
"We at the Southern Trust want to recognise and thank those who have donated their organs by installing this beautiful artwork for families whose loved ones have been cared for at the end of life and in honour of those patients who have given the gift of life. It also serves as a permanent reminder to our staff of the lasting impact their care has on others."
To give the gift of life join the Organ Donor Register today by calling: 03000 20 30 40 or visiting: www.organdonationni.info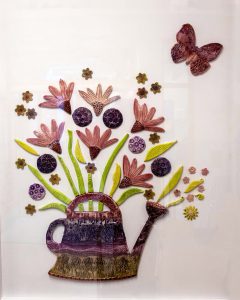 Photo caption: L-R Edel Livingstone, Northern Ireland Organ Donation Team Manager, Diane McCormick, Ceramic Artist and Rachel McIvor, Specialist Nurse Organ Donation Southern Health and Social Care Trust.