Specialist eye service to help recovery from stroke
7th June 2021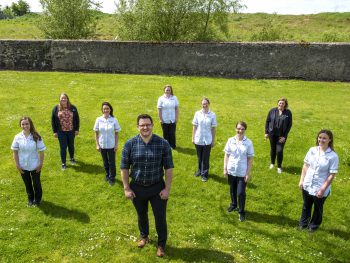 A new service is set to be piloted in the Southern Health and Social Care Trust which will give a better quality of life for stroke patients.
The Specialist Orthoptic Stroke Service aims to reduce the impact of potential sight loss as a result of stroke by referring patients to a team of specialist eye care specialists, who will assess and treat a range of visual problems.
Declan McClements, Head of Orthoptic Services, said that visual problems are common after a stroke and can affect up to two thirds of stroke survivors.
"As Orthoptists we specialise in diagnosing and treating defects in eye movement and problems with how the eyes work together. We deal with issues with the muscles around the eyes but problems can also be caused by defects in the nerves that enable the brain to communicate with the eyes, which is common in those who have had a stroke.
"Approximately 600 patients are admitted to the Southern Trust stroke wards each year and many amidst other general debility will suffer ocular disturbance, diplopia (double vision) and visual field loss that is not easily detectable.
"Our aim in this pilot phase is to assess all newly admitted stroke in-patients in order to screen for ocular anomalies and then review accordingly to enable future service development."
"Many patients will require our support and those identified can be reviewed as an in-patient or booked to an Orthoptic stroke specialist clinic, supporting a discharge to their home comfort as quickly as possible, reducing risk of falls and along with other Multi-Disciplinary Team colleagues supporting the patient in those critical early stages of recovery."
Barry Conway, Assistant Director of Acute Services Cancer and Clinical Services, said:
"Sight loss following a stroke can make many daily activities that we all take for granted very difficult, from getting around in and outside the home, to reading, shopping and watching television. Sight loss can also lead to a greater risk of emotional problems like anxiety and depression and can affect your ability to take part in rehabilitation.
"The introduction of this new pilot in the Southern Trust will ensure that patients get the right care as early as possible, maximising patient outcomes through their recovery and their overall quality of life and promoting service development that meets patient needs"