Speech and language study published by BMJ
20th May 2022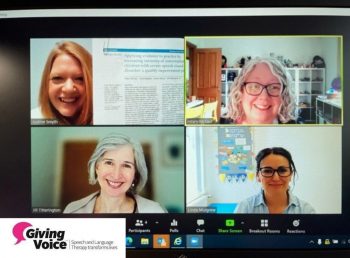 Congratulations to our speech and language therapy (SLT) colleagues who had a paper published in the prestigious BMJ Open Quality Journal on their work to improve outcomes for children with severe speech sound disorders.
Speech sound disorder affects up to 25% of UK children and can impact on effective communication, development of relationships, school progression and overall wellbeing. Evidence shows that more intensive support than the current UK standard practice is much more effective for children with the condition.
Hilary McFaul, Professional Lead SLT for the Trust and colleagues Linda Mulgrew and Justine Smyth along with Dr Jill Titterington from Ulster University developed a quality improvement project aimed at increasing the intensity and frequency of sessions for children each week. Findings showed much improved outcomes for the child's direct speech measures and their parents ratings of their child's communication.
The team are very proud to be able to translate research into practice through this project and are now focussing on how to embed this model further into all practice and share their learning regionally, nationally and internationally amongst their profession to ensure that all children with speech sound disorder can benefit.
Read the paper here