Staff's successes acknowledged
6th March 2020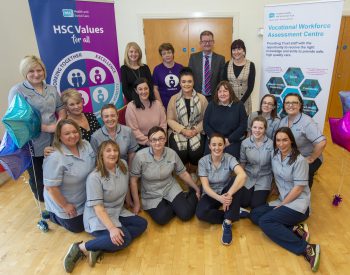 The Southern Health and Social Care Trust has held an event to recognise all the hard work and effort staff put in to successfully gaining their vocational qualifications.
Around 65 staff from right across older people's, children's, mental health and adult services have achieved a range of vocational qualifications, for example a Level 2 Award in Healthcare and Social Care Support Skills right up to a Level 5 Develop Professional Supervision Practice in Health and Social Care or Children and Young People's settings.
The Trust's Vocational Workforce Assessment Centre trains and assesses staff, for example Domiciliary Care Workers, Allied Health Professionals and Paediatric/Maternity teams to improve their skills and enhance the experiences of service users.
Vivienne Toal, Director of Human Resources and Organisational Development, who opened the event said: "We have a fantastic team of committed staff right across this organisation and it is so inspiring to see so many employees take on the extra commitment to develop their skills in addition to their every day job and personal responsibilities.
"I would like to pay tribute to all of those who have worked so hard and demonstrated such dedication to improving services for their patients and clients by gaining their vocational qualifications."