Strive to meet the five!
10th March 2020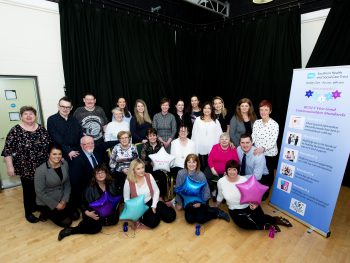 A group of service users from the Southern Trust have worked with Speech and Language Therapists to help ensure that services for adults with a learning disability are accessible, inclusive and communication friendly.
Around 1.5 million people in the UK and 31,000 in Northern Ireland have a learning disability. Up to 80% of these will have a communication difficulty.The Royal College of Speech and Language Therapists 5 Good Communications Standards have been designed to help health and social care staff to improve how they communicate with people who have a learning disability.
Services users from Day Care and Supported Living tenants, along with disability team staff, formed a   'Communication Champion' group which developed a video and other useful resources to raise awareness of the standards. They are also encouraging all staff to make a pledge – to 'Strive to Meet the 5.'
Launching the campaign Director of Mental Health and Disability Services for the Southern Trust, Barney McNeany said:
"People with learning disabilities face a range of communication challenges. We want to make sure that everyone using our services receives the best possible care and recognise that in many cases, some very simple adjustments, like taking a little extra time to give clear information, can help to overcome these challenges and make a huge difference to the experience of a person with a learning disability and their carers.
"We have a great team of compassionate professionals across the Trust and encourage them all, and indeed anyone interacting with people who have a learning disability, to be aware of these standards by always striving to meet the 5!"
The 5 Good Communications Standards are:
1. There is good information that tells people how best to communicate with me.
2. Staff help me to be involved in making decisions about my care and support.
3. Staff are good at supporting me with my communication.
4. I have lots of chances to communicate.
5. Staff help me to understand and communicate about my health.
You can watch the 'Strive to Meet the 5' video below.