Students see how they can make a difference
25th October 2019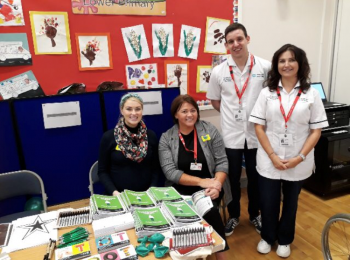 Year 12 students from the Newry and Mourne area have been able to see first-hand the different career opportunities across the Allied Health Professions (AHPS) within Adult Learning Disability Services.
Allied Health Professionals is the name given to the group of professional health care staff who offer a range of diagnostic, technical, therapeutic and direct care and support services. AHPs include orthoptics, physiotherapists, podiatrists, radiographers, speech and language therapists, occupational therapists and dietitians.The Southern Trust recently hosted an educational session for over 60 young people from secondary schools across the Newry and Mourne area.
On the day the students were shown a DVD, were involved in practical workshops and had access to promotional materials which showed a range of ways in which an AHP can work in Adult Learning Disability services and the benefits that brings.
Carmel Harney, Assistant Director AHP Governance, Workforce Development & Training, said: "There are many exciting job opportunities and lots of training available for anyone wanting to work in Adult Learning Disability Services.
"We wanted to showcase to students the wide range of professions they could pursue, what opportunities Southern Health and Social Care Trust has to offer – whether that be occupational therapy, physiotherapy, speech and language therapy or podiatry – and why this might just be the future career for them.
"Working as part of the Adult Learning Disability Service brings many benefits; there is a great multi-disciplinary team working with medical, social work and nursing colleagues, super team morale, job satisfaction and an abundance of training opportunities.
"Perhaps the most important element to these AHP jobs is that you are really making a real difference to peoples' lives and that is what we wanted these young people to see.
"We have a very successful team of AHPs who work within Adult Learning Disability services throughout the Trust and were delighted to see so many young people attended the education session. The role of AHP's within the Adult Learning Disability service can make a huge difference to the experience of a person with a learning disability and their families and carers."