Support Services staff going that extra mile!
21st May 2020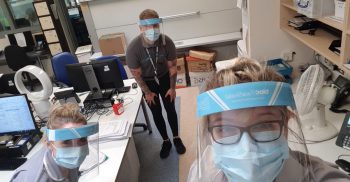 Support services staff are part of a community that form the backbone of the Southern Trust.  They have transformed the way they work to support frontline staff and maintain the vital functioning of our services.  They have responding magnificently to the challenges posed by the Coronavirus pandemic.
Patient meals continue as a key priority across sites.  The team are adapting to added challenges including transporting cooked meals from the kitchen to the staff dining marquee, storage of food, menu variety and the importance of maintaining social distancing.
Dedicated Domestic teams have additional duties with the new 24/7 village facilities and of course maintaining the stringent cleaning regimes to comply with infection prevention and control standards across all of our facilities.
The Portering team have played a huge role in keeping everything moving – transporting patients, linen, waste, blood, pharmacy goods – making sure that everyone and everything is in the right place at the right time along with providing a security service.
Support services also manage the generous donations of food, drinks, toiletries, scrubs, towels, nightwear and toiletries for patients whose relatives cannot visit.  They also manage short-term accommodation requests for staff who are working back to back shifts or are concerned about staying at home. A team are working at the donning stations, managing the cloakroom 24/7, taking staff belongings to bag, label and store.
Ward clerks now manage their phone lines and patient information systems remotely.  Receptionists and switchboard staff help us to run like clockwork, being a key point of contact for concerned relatives who can't visit. Our Chaplaincy colleagues are providing much appreciated spiritual and pastoral support for patients and staff at this difficult time
These are just a few examples of the enormous efforts going on behind the scenes. A huge thank you for supporting and sustaining your colleagues and making sure our patients get the best possible care under these difficult conditions.