Supporting Independence in the Heart of the Community
17th October 2019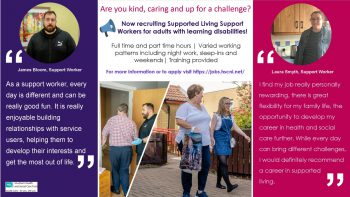 The Southern Trust is looking for kind, caring people, who are up for a challenge to work with adults who have a learning disability.
The Trust has eight Supported Living units throughout the area, where people with a learning disability are supported to live independently. Tenants have the privacy of their own bedrooms alongside shared living areas where they can socialise and enjoy the company of housemates.The Trust is currently recruiting Band 3 Support Workers to assist adults with disabilities in the Supported Living setting.
Geraldine Rushe, Head of Supported Living Disability Services for the Southern Health and Social Care Trust explains: "Supported Living offers adults across the spectrum of learning disability, the opportunity to enjoy the dignity and independence of managing a tenancy for their own home in the heart of their own community.
"The Support Worker's role is to encourage service users to be as independent as possible, assisting them with daily activities like looking after their home, paying bills, appointments, shopping or other outings.
"Support workers may also provide practical, personal support, for example with washing and dressing, helping at mealtimes and generally helping with the service users' overall comfort and wellbeing."
Support Worker hours are usually full-time, with part-time hours available in some areas.  The working pattern varies across each unit, but may include night work, sleep-ins and weekends.  Posts are currently available in Teach Shona Mullaghbawn, Ardaveen Bessbrook, Granville in Dungannon and Bowen's Close, Lurgan.
Geraldine adds: "The Support Worker post can be really personally fulfilling, offers great flexibility and the opportunity to develop a career in health and social care.
"While you will receive training for this role, we are looking for applicants who have a real commitment and genuine interest in delivering high quality care to help our service users to get the most out of life."
Watch HERE to find out more about working in Supported Living.
Tel: 028 3756 1469 Email: Geraldine.Rushe@southerntrust.hscni.net