Three lucky pupils get 'Active 4 Life' and win brand new bicycles
4th November 2019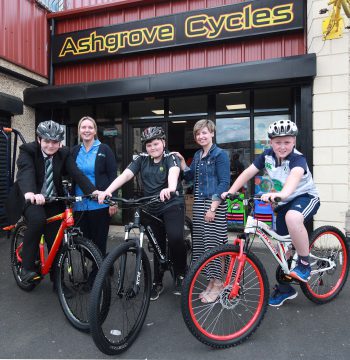 The Trust's 'Active 4 Life' Programme to encourage young people to get fit and lead a healthier lifestyle recently presented bicycles to three local pupils who participated in the programme.
Among forty others, Joseph Farrell, Ethan Parks and Ross Lindsay completed the programme and as a reward got their names placed into a draw to win a bicycle.Active 4 Life is a free 12 week programme offered to Year 8 post primary school children who are identified by the Trust's School Nursing Team to have a Body Mass Index (BMI) of 25 or above. The programme educates and equips children and families to make healthier choices and increase physical activity.
Margaret Bunting, Lead Nurse for School Nursing said: "We want to do everything we can to help young people lead longer, healthier lives. The development of basic fundamental skills through regular and frequent participation in physical activity is of paramount importance in helping children understand the benefits and relationships between physical activity and good health.
"This programme aims to boost children's self-esteem and confidence through a variety of educational tutorials, team sports and high intensity activities.
"We were excited to offer the chance for three children, who completed the programme, to enter into a draw to win a bicycle. Congratulations to Joseph, Ethan and Ross on winning and to everyone who completed the programme and took that first step towards a healthier more active you!"
Active 4 Life is funded by the Public Health Agency and is unique to the Southern Health and Social Care Trust. The programme is co-ordinated by the Trust's School Nursing Service and delivered in partnership with Dietetics, CAMHS, and District Council Coaches.
For more information on 'Active 4 Life' email Margaret.Bunting@Southerntrust.hscni.net