Time Out for Carers
5th December 2019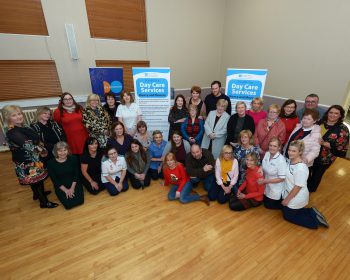 Carers of adults with a disability across the Newry and Mourne area have been treated to some time out in recognition of their valuable role.
Organised by the Southern Trust's Disability Day Care Team, 137 carers of service users who attend Binnian, Crossmaglen, the Laurels, Millview and Windsor Day Centres, were invited to the event to acknowledge and celebrate their important role.The event offered a range of information about support services for carers, advice on a range of wellbeing issues, alternative therapies and Christmas crafts.
Guests were also treated to a hot lunch and a performance by the Laurels Makaton choir.
Speaking at the event Bronagh Mc Keown, Head of Disability Day Services for the Southern Health and Social Care Trust said: "Our staff work in close partnership with carers to help our service users to live life to the full. Thanks to devotion of family members and carers, more and more people with a disability are living independently in their local communities.
"Caring for an adult with a disability is greatly rewarding, however can also be demanding and that is why it is so important for carers to look after their own health and wellbeing.
"We are delighted that so many carers were able to join us at today's event to enjoy this much deserved time out and learn more about the range of support available to help them continue in their valuable caring role."
A 'Time Out for Carers' event has already taken place for carers in the Craigavon and Banbridge area and one for Armagh and Dungannon is being organised in the new year.